Sponsor a Kennel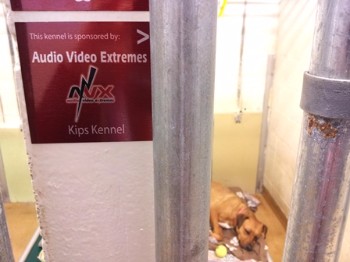 Kennel sponsorships provide a great opportunity for individuals, families, communities, group organizations and companies to publicly show their commitment to helping homeless animals in our community.  Sponsorships directly benefit animals by allowing us to provide shelter, basic exams, vaccines, and other kennel needs for the animals in our care.
There are two kennel sponsor options, both of which display a personalized plaque on a kennel for one year.  Our cat room and small dog/puppy room kennels feature small kennel plaques, and cost $300 per year to sponsor.  Our two kennel rooms for dogs feature large kennel plaques, and cost $500 per year to sponsor.
Special thanks to our current kennel sponsors:
Terry & Kirk Atkinson, Bill & Judy Atkinson, Audio Video Extremes, Jessica Bode & Tim VanEps, Brenny Transportation, Dr. Deborah Bryant, Lynn J. Cairns and John D. Olsen, Bev Carlson, Barb Corson, Kris Maren Daniels and Jack Daniels, DeGraaf Family, Julie Aronson Dehnel, James A Denzine, David & Joanne Dickson, East Side Oil Companies - Jim Feneis, Patrice Sullivan and Ken Fischer, Randy & Brenda Fischer, Gina Fox, Mary & Kent Hinkemeyer, Stephanie Horvath, Ceil Johnson, Evan & Carol Jones, Dr. Keith and Vonetta Kennedy, Dave & Laura Light, McDowall Company, Rachel, Jennifer & Marilyn Melling, NC's Doghouse, Inc., Neron Family, Janice Pearson, Dina Pierskalla, Curt & Susan Sauer, Suzanne Schlangen, Kris Sorensen, Perian and Dick Stavrum, Judy Stommen, Sue Wahl Storbeck, Patricia & Lewis Walker, Mary Wenck, Dee Whitlock
---
Download a form and submit it in person at TCHS or by mail; or complete this secure online form today!
Sponsor a Kennel Today: