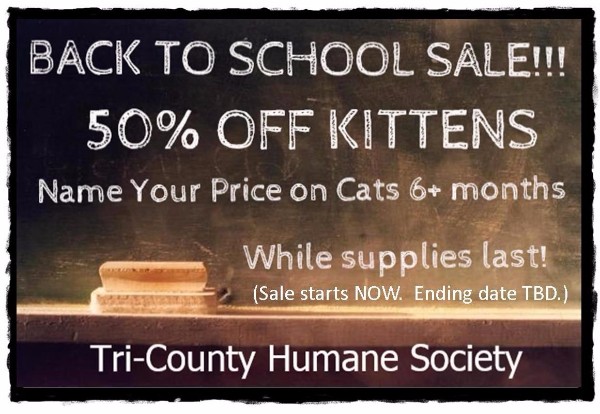 Back to school blues? We've got your cure in the form of soft, cuddly cats and kittens!!!
All kittens under 6 months of age are 50% off (normally $150, now $75) and cats 6 months and older are available at the adoption price of your choosing.
- Purr-fect for curling up in a chair while you read
- All of our cats come with a professional homework assistant degree from Tri-County A-cat-emy.
- Got homework? We've got over 100 cats ready to help!
This sale is effective immediately, and will continue indefinitely until further notice. **Free pencil with every adoption!**
*Disclaimer: Pets can't add and they can't subtract, but they sure can multiply! All pets adopted from Tri-County Humane Society are spayed/neutered prior to adoption. We are committed to helping reduce the number of unwanted, unplanned litters in Central MN.