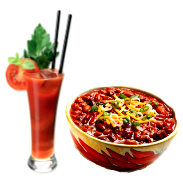 Where do they make the best Bloody Mary? How about the best chili? We will find out on January 26th! Area bars and restaurants will compete for "Best in Show" at our third annual Best Bloody Mary and Best Chili Contest!
Come to the Red Carpet Event Center to place your vote and be a hero for the animals at the same time!
$15.00 advance tickets available online (see Buy Tickets Now button on this page)
$20.00 at the door the day of the event
Over 250 people attended in 2018, with $3,000 raised in ticket revenue alone!
Because of our generous sponsors and competitors, all ticket proceeds benefit the Tri-County Humane Society.
New for 2019:
We dropped the "celebrity judges" portion of the voting process—the ticket holding voters take their jobs very seriously and want to know their vote counts! In 2019 the final vote tally from the voter ballots will decide "Best in Show" Chili and "Best in Show" Bloody Mary!
Last year over 250 people attended, and we expect more this year, so we added space by opening the door that joins the Event Center with the Pub so we have more elbow room.
Follow the event here and on Facebook for future updates!